The technology is increasing rapidly faster and, however, the adoption of progressive applications is. Progressive web applications are an incredible platform served with numerous benefits. These applications are built to work on a variety of devices without affecting user experience or design. PWAs may give all of the advantages that native applications do, as well as some new ones.
Businesses can make use of the various advantages of PWAs to boost their visibility and reach more users. Progressive Web Apps have yielded excellent outcomes for businesses that have used them. A few examples are: Twitter witnessed a 65 percent boost in pages per session, a 75 percent rise in Tweets, and a 20% drop in bounce rate, all while reducing their app by almost 97 percent. After switching to PWA, Forbes' PWA takes only 2.5 seconds to load. As a result, the number of answers each visit has increased by 10%.
These are some of the results that can't be ignored. 
Therefore, progressive Web Apps are on many companies' roadmap as a way to upgrade their websites and respond to changing user expectations. 
This article aims to provide you with all the information about Progressive web applications, their features, how these features can help you improve your business engagement, generate revenue, and much more. 
What is PWA? 
Progressive Web Application is a software methodology that bridges the gap between mobile and applications, pushing the era of connectivity ahead. 
In simple terms, a Progressive Web App is a mobile website that has been enhanced with new features and functionalities to give it a distinct 'app-like' feel. It is shown using a Google Chrome instance and employs service workers to guarantee that it runs well even when there is no steady internet connection.
The progressive web applications are: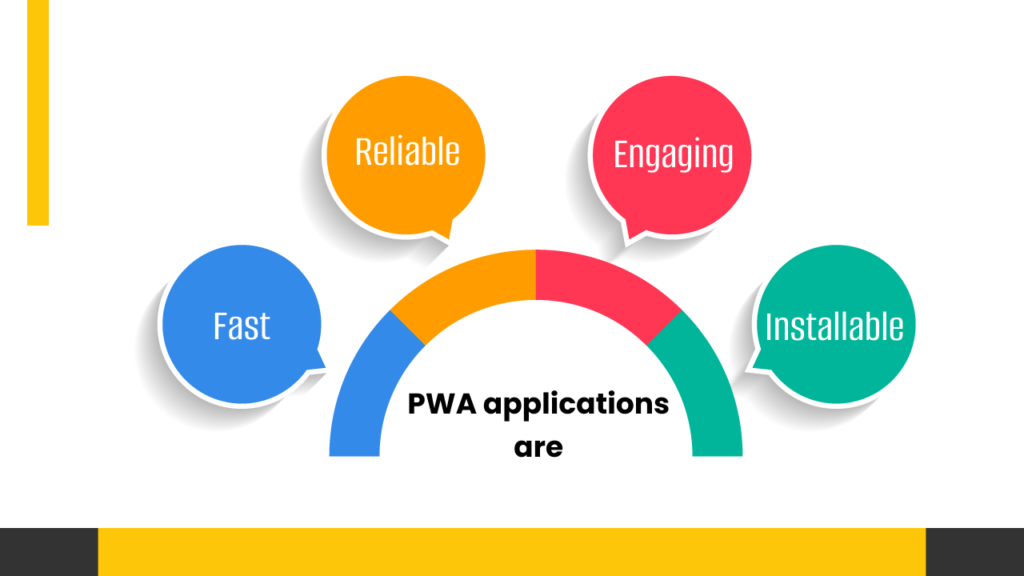 Fast: When it comes to speed, PWAs are highly efficient. Java scripts that execute independently of the main browser thread allow your PWA to load almost instantly, regardless of how slow your connection is. PWAs are extremely fast owing to data caching in the browser and app. They have seamless navigation, animations, and scrolling to give the user the impression that they are in a native application.
Reliable: Progressive Web Apps' reliability is based on their lack of the need for an internet connection. A PWA can function offline, offering a consistent experience regardless of connection quality. It enables customers to stay engaged for as long as they desire; they may continue exploring a product catalog or even adding goods to a basket without needing to connect to the internet.
Engaging: Progressive web applications provide better customer engagement in many ways. Push alerts may be sent to customers to advise them of new arrivals and promotions. Users are also alerted about the status of their orders and receive customized offers.
Installable: Progressive web applications are easily installable that run in a separate window rather than a browser tab. They may be accessed from the user's home screen, taskbar, or shelf. Also, it is easy to search for them on a device and move between them using the app switcher, making them feel like they are a part of the device on which they are installed.
Why build a PWA? 
There are numerous reasons to build a PWA to drive business success. These reasons are as follows: 
PWAs solve customer problems
Customers love the applications that provide faster loading time, better reliability, and an engaging experience. However, progressive web applications provide all such features with cost-effectiveness. 
Building PWAs is easy to implement the solution 
Developing progressive web application is easy to implement. To design a Progressive Web App, you do not need any more resources, technology, or people on your project. You already have everything you need if you have JavaScript developers.
PWAs are cross-platform 
Progressive web applications are cross-platform i.e. the single application can operate on many operating systems instead of designing several app versions for each platform.
PWAs are expandable 
Progressive Web Apps that can be expanded are simple to create. Because you're essentially building a website and adding functionality, you may gradually add more bells and whistles. You may also add new features to your Progressive Web App as more browsers become compatible with all PWAs have to offer.
How do PWAs increase business success? 
Here are some useful factors that keep PWAs increasing business success: 
Keeps visitors connected even if there is no internet
Native Apps must be connected to the internet to function. PWAs, on the other hand, enable your users to interact and browse even when the internet connection is lost. Under all network situations, they have the same native app experience.
Low-cost factor
PWAs are a less expensive alternative to a costly native app (up to 75 percent cheaper). PWAs may help firms drive more mobile traffic by providing consumers with features that use less data, need less storage, and load significantly quicker.
Brand Promotion
PWAs can help you enhance your organic search visibility (SEO). In contrast to native mobile applications, which can only be discovered in app stores, PWAs are still webpages that can be crawled and indexed by major search engines such as Google, Yahoo, and Bin.
Gain new leads 
PWAs assist you in gaining vital information about the demands of your clients. With an instantaneous notification, you can provide users information on the latest items and services from the minute they install your app. All of this may be determined by the number of visitors, pages visited, and location.
PWA Benefits for businesses
The benefits of progressive web applications for businesses are as follows: 
Faster loading time
If your website takes more than 3 seconds to load, 58% of visitors will abandon it. Client-Side Rendering, or CSR, is an alternate mechanism used by PWAs. Content is rendered in the client's browser using JavaScript in this manner, resulting in a considerable boost in website page load speed.
Offline operation
PWAs are far more convenient than web pages because of their capacity to operate offline. This feature is critical for businesses since it prevents users from abandoning their catalogs and increases customer retention rates.
App-like look and flexibility
Progressive web applications provide an enhanced user experience by merging the appearance and feel of mobile applications with the best of website speed. They have a design and configuration that is quite similar to that of native mobile applications.
Better performance 
Along with the speed of operation, a flawless performance is another factor that influences user experience and conversion rates. Businesses and content providers should employ this software because it provides a better user experience than mobile applications by increasing retention and consumer loyalty.
Lightweight
Progressive Web Apps are designed to provide the finest user experience possible, which is especially important for mobile device users. Despite their many fantastic features, Progressive Web Apps are relatively lightweight and can run smoothly even on low-bandwidth networks.
Push notifications 
PWAs, like native mobile apps, may access device-specific capabilities such as push notifications. This capability may be used in a variety of ways, allowing businesses to make the greatest use of marketing and promotions. 
Platform- and Device-Agnosticism
PWAs function everywhere, unlike traditional apps, which are extremely demanding on operating systems and the technological capabilities of diverse devices. 
Platform-independent apps are a more cost-effective alternative to developing and maintaining distinct native apps for the web, iOS, and Android. With PWA, you can give everyone the same user experience, regardless of the platform they choose to engage with your app.
Enhanced security
PWAs rely on HTTPS to protect data and reduce the risk of security vulnerabilities, as this protocol prevents surveillance and content modification. Furthermore, the applications make use of Web Bluetooth technology, which contains specific security features.
No updating required 
PWAs offer a unique feature that allows them to automatically update without informing users or disturbing them with permission requests. These apps update automatically every time a user visits them, avoiding the need to download and apply batch updates. They just deliver a fresh look with no human involvement.
Home-screen save 
Progressive Web Applications offer a significant advantage over both apps and web pages in that potential consumers may add your PWA directly from the browser to their Home screen. This makes them much easier to deploy.
Cost of developing PWAs
PWAs use a fraction of the resources that native applications do. Understanding how much your native app would have cost can give you an estimate of what you could pay with PWAs.
Are you interested in developing a PWA?
Team up with us to create an app-like business solution that operates reliably in all conditions, allowing you to increase your revenue.
NearSource is here to help. We have experienced developers that are passionate about developing Progressive Web Applications. Whatever your objectives are, we can help you achieve them. We help you with PWA web development, PWA mobile development, PWA integration, maintenance, support, and more. 
If you're ready to get started, get in touch with our team and we'll get started developing your web application together.